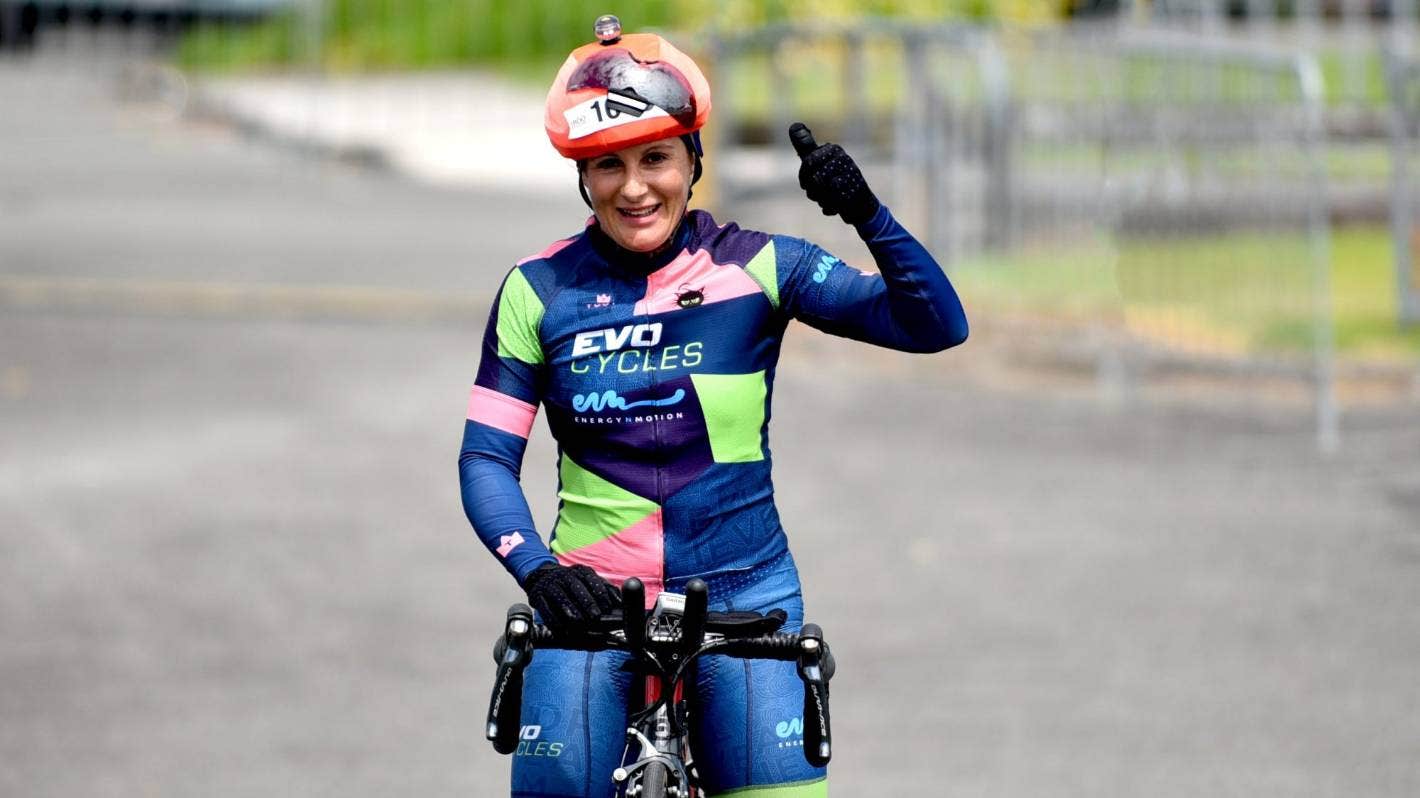 TrackMe NZ' brand ambassador Joanna Sharpe is an ultra-endurance cyclist. She is also a staunch ambassador of Bowel Cancer New Zealand and always has an epic challenge on the go. She became involved with the charity after becoming close friends with former professional cyclist Britt Mill, who passed away at age 33 from bowel cancer in 2020.
In February 2021 Joanna became the first woman to complete The Long White Ride, the demanding 2100km plus ride the length of New Zealand: Cape Reinga to Bluff. She achieved this in six days and nine hours, a world record setting time. She says records are nice to have but her main reason for sitting in the saddle for just under a week was to help raise awareness for Bowel Cancer New Zealand.
In March of 2022 she was at it again, attempting a Cape Egmont to East Cape and return epic ride, i.e., most westerly to most easterly point in the North Island and back again. While no-one had done this before, Joanna was determined to do it with a good time. Unfortunately, weather conditions and her own physical ability didn't allow her to turn around and come back, but she'd ridden the 630km cape to cape, with some big climbs, nonstop in 30 hours, 51 minutes.
Joanna suffered her own tummy troubles a few years ago and, while undergoing treatment, she met fellow cyclist Britt Mill. Britt had had similar symptoms, but Britt's diagnosis of cancer had taken too long. "By the time she got an accurate diagnosis, unfortunately, the bowel cancer was so advanced that it was terminal. So, I think Britt and I give you complete opposite sides of the spectrum of what can happen."
When talking about her epic rides Joanna says, "If my pain brought the attention to a cause that meant one family didn't have to experience losing a loved one, it would be all worth it. That was honestly what kept me going."
Whether riding around her local Coromandel roads, or on her long-distance ultra-rides, Joanna carries an inReach Mini2, from TrackMe NZ. There are two things it does really well. "When I'm doing events, like the world record ride down the country, I'm doing it for charity. For the charity to do well, people have to be engaged and connect to the cause. The tracking ability of the Mini2 means people can follow along with where I am and how I'm doing. People came out to cheer me on and tell me stories of their own loved ones' cancer journeys. InReach technology allowed that to happen.
"The other thing of course, is that whenever I'm out in nature, New Zealand conditions can change. From a cyclist's perspective too, sometimes you have an altercation with traffic and the traffic is usually the winner. Plus, cell phone coverage is really spotty around the country. Knowing that if I need it, I can get help is just great peace of mind. I also have ability to contact people, give health check-ins and text people."
After her west to east ride Joanna put this message on her Facebook page – To all the young people out there, dream big, shout your dreams loud, don't be afraid to reach for the stars, and land on the moon.