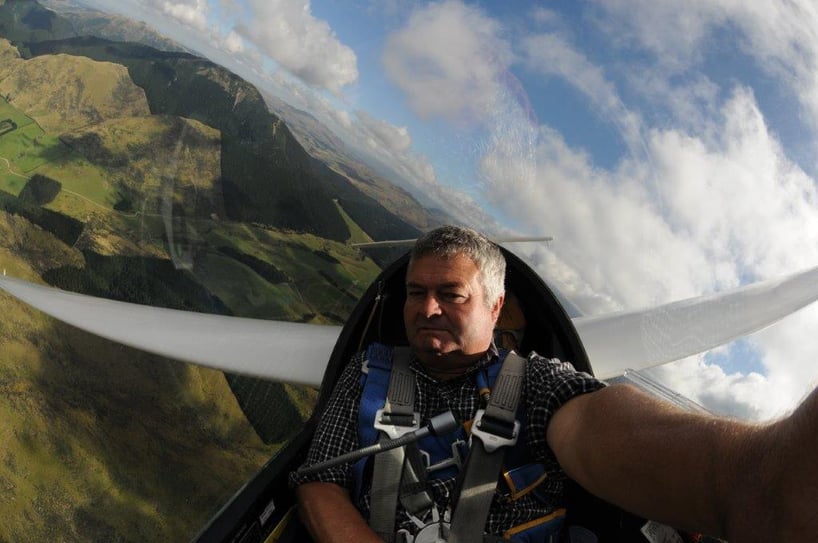 It's not just people on the ground who use TrackMe NZ's services. New Zealand's gliding community have been using SPOT trackers for years. The technology is widely used for safety and to allow flight following in real time. Gliding New Zealand and TrackMe NZ provide an open link to a site that shows every glider flying in the country http://tracking.gliding.co.nz/ Most of those gliders are using SPOT, but there is also a smattering using other inReach devices and FLARM (traffic awareness and collision avoidance technology for General Aviation) on this integrated page.
John McCaw flies his own glider, a Schempp-Hirth Cirrus, from Springfield, the base of the Canterbury Gliding Club. He was an early convert to SPOT trackers.
Back when we first got a SPOT, you could only register them through the States, and it was really expensive. We used the cheat's option. Because they give a ping every ten minutes for an hour after you press the 'Help' button, we could get an hour's tracking for free. You had to remember to push it again after an hour. These days, being registered through TrackMe NZ, we just turn the unit on and know we'll be tracked for our whole flight. Gliders can fly a very long way in an hour. If conditions are right, you can do more than 100 kilometres, and it's usually over mountainous terrain, so having flight following is very important.
SPOTs are all we need in a glider. We already have fancy navigation systems, so don't need the inReach type units. All the SPOTs used in gliders are set up to drop a marker every ten minutes. Real time flight following has revolutionised glider racing for spectators. The competitors are miles from the airfield, racing around courses that can be up to 500 kms long. These days, big screens are set up showing the tracking so that fans can see who is where and who is in the lead.
It also makes a huge difference for safety. If the unit hasn't moved when the glider should be flying, you're hoping that the pilot forgot to replace the batteries and not that they've landed somewhere weird or, worst case, the glider has crashed. A radio call will usually give you peace of mind. However, if they have had an incident, knowing their last location really helps in the rescue.
SPOTs also have the ability to send up to 3 preset messages. One of those is the SOS, which we hope we never need to use. There's one preset message that gets used quite a bit. As gliders rely on the energy in the atmosphere to stay airborne and fly to where they want to go, there are often flights when they don't quite make it home and have to land in a paddock. This isn't a big deal, we're trained in how to do it safely. But it's a nuisance to be on the ground without any way of getting back in the air. Like most glider pilots I have one of the preset messages say, "I have landed at this location and require a retrieve." Once upon a time, you used to have to leave your glider and tramp off to find a farmhouse to ring your crew for a retrieve. Now, the crew knows my co-ordinates and no longer have to search for me at the second tree stump past the turn-off on the road to the swamp, as in the past. I also don't have to worry about lack of cell phone coverage.
TrackMe have made the whole system so easy to use. I make sure the batteries are fresh, turn the unit on and go flying, knowing that in the unlikely event that something goes really wrong then help will find me.
If you'd like to have a go flying without an engine, check out your local gliding club on the Gliding NZ website.